Logging that a task has been completed is a process you will use over and over again.
To start, navigate to the task's resolution page by clicking on it from your to do list. Under the important task details, you'll see the 'Resolve Task' form. This asks for 3 important pieces of information and also allows you to add more details for your records. Enter the information and click 'Record Date' to log the completion.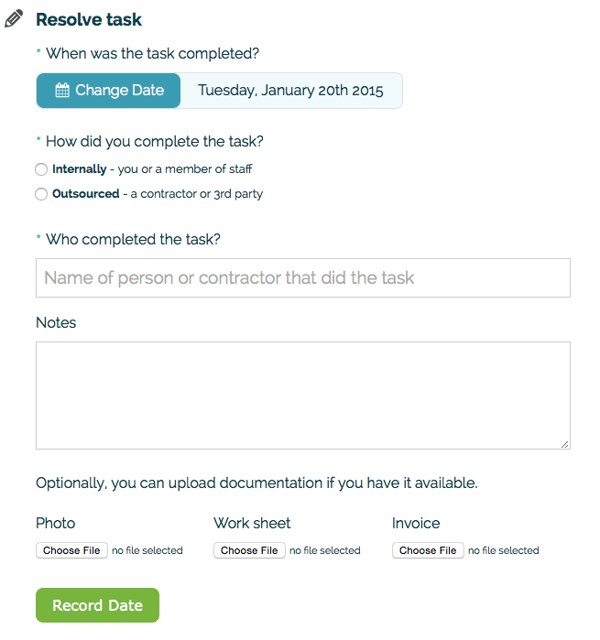 Required Information
When: Enter the date on which the task was completed.
How: Was this task done by a member of staff, or by an external person such as a contractor
Who: Enter the name of the person or company that completed the task.
Optional Information
Notes: You have the ability to leave as many or as few notes as you require.
Photo: You can upload a photo (or a zip file of multiple photos) of the task. This is useful if there is a fault that needs to be documented.
Work sheet: Upload a copy of your internal work sheet or the work sheet given to you by the contractor.
Invoice: If you incurred any costs you can upload an invoice.
The file uploads can be digital documents or scans of paper forms. We highly recommend uploading your documents as it is much easier to locate them again on iAM than it is searching through filing cabinets or your email inbox.