You can add contractors to your account individually or in bulk via a CSV upload.
It's very likely that over time, you will have built up a list of contractors that you prefer to use for those jobs that you need a qualified professional to complete. To save you from having to hunt around for their details, we've made it so that you can save and access their information from within iAM Compliant.
To add a contractor to iAM;
Hover over 'Premises' in the navigation bar at the top of the page to bring up the dropdown menu
Select 'Contractors'
Click the green button to start adding in their details

If you'd prefer to upload a list of your contractors in bulk, then scroll down to the bottom of the page to be taken to the import option.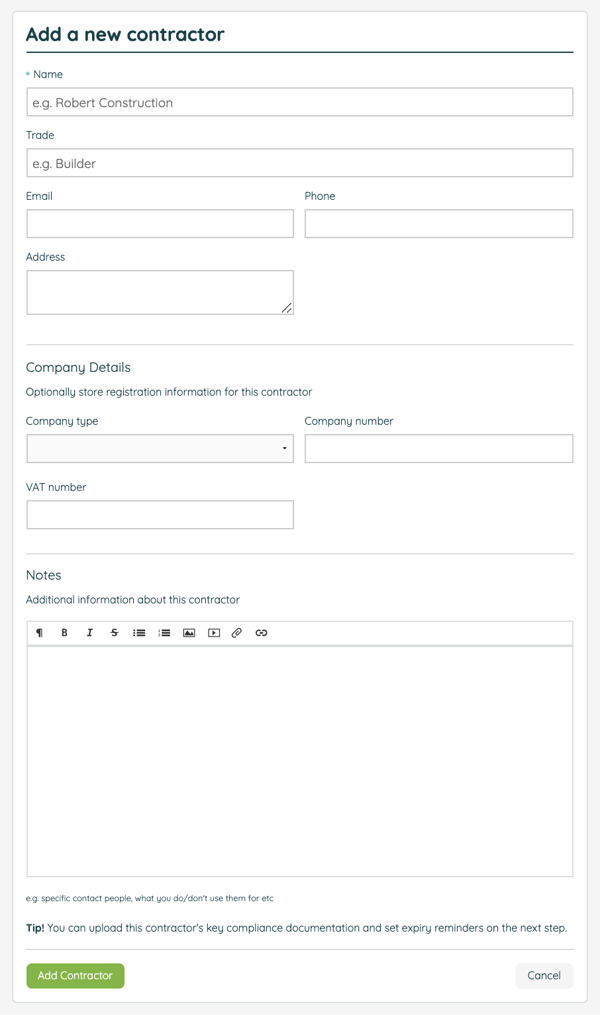 Once you've added in the information about your contractor, you will also be able to attach any relevant documentation (such as their insurance documents) to them and set an expiry date if needed.
Now, any time that you have an upcoming task that needs to be completed by a 'Qualified' rather than 'Competent' person, you will be able to select the person you would like to give the job to from right in the app.