Each template has editable hazards, control measures, and risk levels which you can adapt to suit the specifics of your organisation.
We are working hard to build a library of risk assessment templates, which you can use and customise to suit your organisation's particular circumstances.
The template library is accessed from the right-hand menu in your Health & Safety Risks area.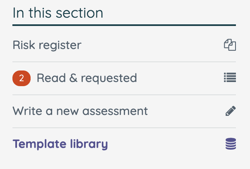 Click onto the template you wish to use, then scroll to the bottom of the page and click 'Use this template' to begin editing the template and customising it to apply to your organisation.
Every hazard in the risk assessment can be tweaked to better suit your needs; click the 'Edit hazard' button to make changes.
You can change the description of the hazard, the control measures, the people affected, and the level of initial risk and residual risk.
If necessary, you can also remove any hazards from the template that do not apply, or you can add in new hazards that you specify entirely yourself.
Each template can be used multiple times to allow you to use the assessment template as a start point for all of your individual locations. You'll also be able to see when and where the templates have been used already to prevent duplication.