Head to the training reports to take a look at who has taken which courses
This feature is available to account owners and location managers
The Training Manager tool allows you to run reports on the progress that you and your colleagues have made in our course library. You will be able to see who has started, finished, passed or failed which courses.
To view the Training Manager:
Navigate to the training area from iAM Compliant
Click on your name in the top right to bring up the drop down menu
Select 'Reporting'
You will now be able to create a report tailored to what you'd like to see. Just select from the available options and then click the 'Generate report' button.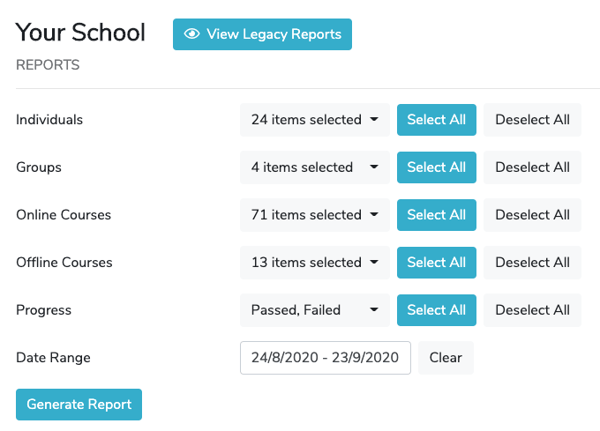 You're able to filter your report to only show specific individuals, particular groups, only the courses that you're interested in, to only show a certain amount of progress (e.g. completed), or limit it to a set period of time.
NB: The filters all start in a blank state as a minimum. Please ensure that as a minimum you have made a selection for 'individuals' (or 'groups' if you'd prefer), 'online courses', AND 'progress'. If any of these options are not selected the report will not return any results.
Once you've generated the report you're able to download the information as a CSV, a PDF, or print it from the page directly.
If you'd like to view the course completion records from the old training courses taken before August 2020, these are now also viewable in the Training Manager - simply click on the 'View Legacy Reports' button to view them.
Please note: at this time it is not currently possible to filter by location.